Cold Milled Flax Seed
~ True Cold Milled Flax Seed ~
What is True Cold Milled Flax Seed?
Cold Milled Flax Seed is flax that has not undergone any heating in the process to grind and mill the flaxseed. This is essential because this
protects the Omega 3 oils so that they won't go rancid.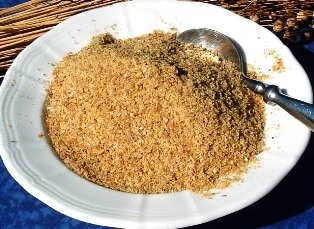 The farmer who is my source for flax from developed a way to Cold mill Flax, which means that the flax seed is
never exposed to heat
during the milling process!
Does Flax need to be ground?
Many people don't realize that Flax seed is
most beneficial when ground,
otherwise the whole flaxseeds simply pass through providing only roughage. You need to eat ground cold milled flaxseed in order to get all the
healing benefits from Omega 3, Lignans, Protein, Fiber,
and other nutrients from the ground flax seed.So, should you grind flax seeds or buy pre-ground (milled)?I used to tell people all the time not to eat pre-ground flax seed....
That is still true if you buy regular ground flax! Here is why…
Omega 3 oils are VERY sensitive to heat
and will be denatured when heated, losing their effectiveness. Just like with Olive oil, it is important to purchase COLD pressed Olive oil because you
don't want to destroy the sensitive healthy Omega 3 oils!
What if I Want to Grind My Own?
Some people would rather grind their own, which is
Great
if you have the time! If you grind your own flax with a coffee grinder, the grinder blades heat up the flax seed, so you should refrigerate or eat the flax after it has been ground.
What if I Don't Have Time to Grind Flaxseed?
The farmer who is
my source for the best flax
from developed a proprietary way to cold mill flax seed, which means that the flax seed is never exposed to heat during the milling process! This is so important because this means you will
actually get Omega 3 in your True Cold Milled Golden Flax
, unlike flax seed that has been exposed to heat during the grinding process, which allows the Omega 3 oil to go rancid -eliminating all the benefits that Omega 3 has for you! Why pay for something that has poor nutritional value and is not achieving your goal of healthy eating? Also, True Cold Milled Golden Flax tastes MUCH better because it is fresh, full of nutrients and

not going rancid!
How Does This Benefit You?
This is excellent because
so many of us are VERY busy
and it is difficult to eat well let alone grind flax every day! I know many people love the Cold Milled Golden Flaxseed ~including my children, who rarely took the time to grind the flax. Now they are
quickly able to add it to their daily diet
by easily mixing the cold milled flax seed with juice, cereal, protein shakes, smoothies, or many other things!Cold Milled Golden Flax is about $6.00/month per person for an
incredible exchange of healthy eating and living!
Why Should You Eat True Cold Milled Flaxseed vs Ground Flax(store-bought)?
If you are not sure how the Ground or Milled Flax seed is being processed and if the packaging does not clearly state that it is cold milled, than you can know that the flax is being ground in a way that heats the seed. After the flax is packaged, stored, shipped, and on the store shelf, you will
likely be eating rancid flax
since the Omega 3 oil doesn't take much time to start denaturing and going rancid (bad). Eating ground flaxseed that has not been Cold Milled is not worth the risk that you may be eating rancid food!
Remember, if it tastes bad, it probably is bad -because Flax is Food and should Not taste bad!!!
---
Read about Flaxseed + how Cold Milled Flax Seed can Give Nutrition Your Body Craves! Want to know ways + Ideas of How to eat flaxLeave Cold Milled Flax Seed to go buy Quality Flax.