Flax Problems + Flax Safety Issues
Flax problems and flaxseed safety issues can range from how flax is grown, processed and stored, as well as the quality of flax and where it comes from.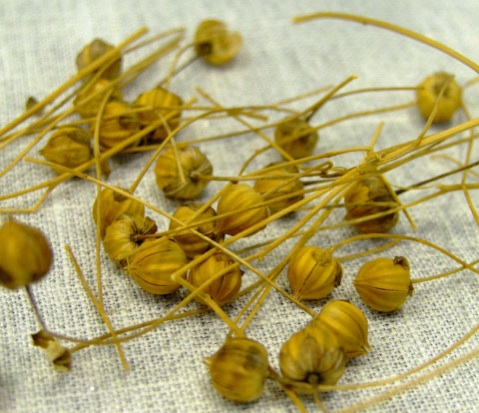 It is important to know where your food comes from
-if it is traveling thousands of miles to get to you, there will be some kind of trade off (usually a nutritional trade-off),
Flax sold in stores could possibly be grown with pesticides/herbicides and chemical fertilizers, and
A lot of flax that is grown is genetically modified (GMO). GMO Flax, like other GMO foods have not been studied thoroughly for their long-term effects on health; however, there are many scientists and farmers who are very concerned about GMO foods. Many of us are essentially walking experiments.
Other flax problems are a result of an increasing demand for flax. A lot of flax is now being
grown in other countries like South American countries and China
. There are flax safety issues and the concerns I have with this is that:
Flax grown in other countries will not have the same standards or the same accountability system,
If flax is not treated with highest care it can have moisture causing mold and fungus to grow (esp if it is traveling many miles and being stored for any length of time),
Flax coming from other countries has to be stored for a longer time and Flax has omega 3 oils which are sensitive to being heated (they can denature),
Different Flax coming from many places could possibly be all mixed together (good flax with bad flax) in order to achieve the highest nutritional composition when it is tested (think of it like you bought a box of big strawberries on the top only to later find small, moldy strawberries underneath -except with flax, it is much harder to see this), and
What if the flax was mixed with melamine # or some other substance on accident? The standards just aren't the same in other countries and testing is difficult and expensive.
This is why I believe
it is SO important to know where your food is coming from
. If you don't know where your food comes from, then
you may not be getting the best value for your money
and you may be sacrificing your health because your body may not be getting the essential nutrients that it needs.Our flax and flax hull lignans are all
GLUTEN free
and have
not been grown with pesticides/herbicides of chemical fertilizers
. In fact, you can be sure that you are getting NON-Genetically Modified flax that is the Absolutely
The HIGHEST Quality
available.
Leave Flax Problems page to read more about Flax
Read more about the Quality of Flax
Leave Flax Problems and Go to the Home page