Lignans Flaxseed
are the hull of the flax seed + a SUPERFOOD with MANY Healing benefts!
Product Information
5.3 oz 100% Natural Golden Lignans Flaxseed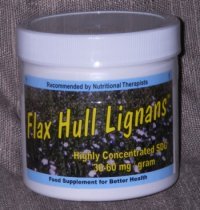 Golden Flax Hull ~Lignans~ are a SUPERFOOD –You can help HEAL YOUR BODY! Has helped prevent + reverse HAIRLOSS!!
100% All Natural -Lignans~ ABSOLUTELY NO Pesticides, Herbicides, + Non Genetically Modified
GLUTEN FREE
Highly Concentrated SDGS - 20-45 MG/Gram
Supercharge your Immune System and Help your body heal
Has decreased and Stopped HOT FLASHES!
Anti-inflammatory benefits, helping those with Arthritis + bowel irritation.
New research shows anti-cancerous benefits!
Recommended use:
Once a day, Add 1-2 scoops (small scoop included =1/2 tsp) to your cereal, smoothie, juice, etc. If you have Hot Flashes or problems with inflammation, you may want to eat 2-3 scoops/day.
Click Here For More on HOW TO EAT LIGNANS.