A Special Deal for Our Special Customers
-True Cold Milled Ground Flaxseed
SPECIAL DEAL -this deal won't last!
Good until 2/28/2012! -then this page will be removed!
True Cold Milled Ground Flaxseed - Premium Gold True Cold Milled™ Flakes o' Gold 40 oz - Product Information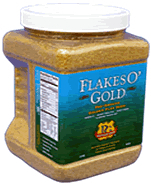 A Customer FAVORITE!
Flaxseed is very economical at ~17 Cents/DAY an INCREDIBLE deal for inmeasurable health benefits!
GLUTEN FREE. ALLERGEN FREE. Processed and packaged in facilities only with Premium Gold Flax seed. No Gluten, No Peanuts or Nuts, No Milk, No Soy
100% All Natural Flaxseed--ABSOLUTELY NO Pesticides, Herbicides, + Non Genetically Modified
Premium Gold True Cold Milled™ Flaxseed is milled so NO HEAT enters the process, much like COLD Pressed Olive Oil. When the Flax seed is Cold Milled, the Omega 3 oil is not exposed to damaging heat and therefore remains unchanged from its seed form.
Long shelf life because it is True Cold Milled™ Flax seed
Research is proving the many health benefits of Flaxseed!!
96 oz. re-usable plastic container
Kosher Flax Seed
Excellent way to replace fiber drinks + to add in protein drinks or other foods for daily fiber + protein!
A little coarser grind than the 24 oz True Cold Milled™ Flaxseed (which is what we recommend for those with Celiac's, Diverticulitis, or other stomach sensitivies
Re-useable and Easy to pour + store container
Absolutely Delicious!
Recommended use:
Eat 2-3 tablespoons flax seed daily.
Start with 1 Tablespoon and eat up to 3 or more Tablespoons a day.
Listen to your body! You will KNOW when you are getting the right amount of flax!
40 oz. Flakes O' Gold Premium Gold True Cold Milled™ Flax- Delicious and conveniently already ground for those days you are in a hurry!
Read more about True Cold Milled Flakes Ground Flaxseed
$20.00 Retail
Special Discount SALE at $15.00!
---
Read about the health benefits of True Cold Milled Ground Flaxseed! Want to know ways + Ideas of How to eat flaxLeave True Cold Milled Ground Flaxseed to go buy Quality Flax.