Can I drink Flax seed?
Can I drink Flax seed in water? I am in a hurry many days and I usually eat flaxseed in yogurt, but it takes too much time. I would like to mix ground flaxseed in water -would that work?

I love your flax seed -it is so different from other flaxseed I have had in the past. -Thanks, Jon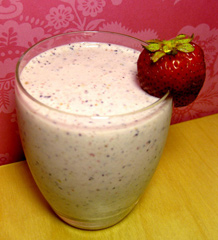 *********

I am so glad you are enjoying the flaxseed Jon. As part of a healthy balanced diet, it will keep you healthy and your body will thank you! You asked,
Can I drink flax seed?
-Absolutely! You can drink ground flaxseed in water, juice, smoothies, protein shakes -or any way that tastes good to you! When I am in a hurry, I also find that is the quickest way to get my daily flax -drink it in water.
Ground Flaxseed in Water
If you do put ground flaxseed in water, you will notice that it sinks to the bottom of the cup and you will have to mix it up while you drink it or use a spoon to drink/eat it.
The other thing you will notice about flax in water is that it thickens up the longer it sits there. So, when I drink flax in water, I usually try to drink it up fairly quickly -in ~5 minute or so, otherwise it gets really thick.
Flax thickens up in water
If your flax and water thicken up too much and you don't like it, you could add some fruit, fruit juice and even yogurt -put it in a blender and have a smoothie (check out these smoothie recipes -or add it to a protein shake... use your imagination!
Flax is a food and can be eaten any way that you choose (there is no wrong way) ...as long as it tastes good to You!
Thank you for your question.
Here's to your health!
~Ellie
Read more about the incredible benefits of the powerful flax seed and answers to questions like Can I drink Flax seed.
Buy quality True Cold Milled Flakes o' Gold.
Read more about cold milled flaxseed + How to Tell if Flaxseed is Rancid?