Thank you! You have been entered into GotFlax Give-Away at the MN State Fair!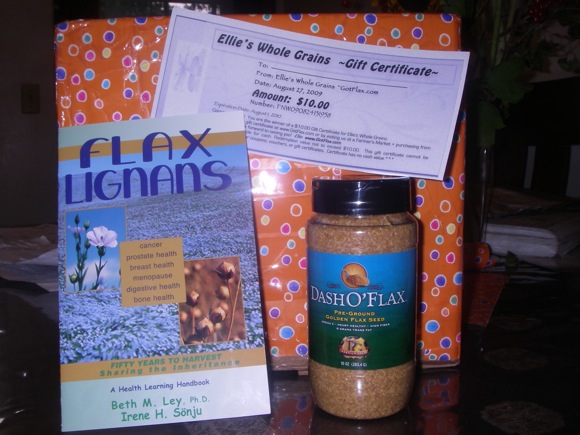 You have been signed up to win a FREE Dash of Flax, a Flax Lignans Book, and a $10 certificate... a $30 Value... FREE!
A welcoming e-mail is already on its way to you!
Every day we will randomly select the daily winner.
At the end of the MN State Fair, we'll notify everyone who the winners are with a blog post here and we'll contact each person directly to send out all the prizes to the LUCKY winners!
You are entered to win the giveaway and everyone will receive our FREE newsletter full of valuable information with delicious flax recipes, great health info, and great deals!
Great Job!
This website and newsletter are an extension of my passion for eating and living healthy ...and for eating flaxseed! ...

I believe that it is important to know where our food comes from and support local farmers. Get back to the farm and stay out of the pharmacy!
Eat + Live Healthy!
You can eat and live healthier! Start today by adding flax to your diet!
You'll be glad you did!
~Ellie
Want to learn more about Flax seed Benefits for you? Read through back issues of The Grain eNews or read through other pages on this site.

This excerpt of Food Matters is a good reminder that Food does matter!
Our Guarantee to you:
We will NEVER spam you nor send you unsolicited emails. The fact is we don't have time to (and of course, we hate spam too)...
Honestly, we are just too busy providing beneficial info to our wonderful and happy readers!
And we will always keep your email address Private. For more about this, read our Privacy Policy. If you ever change your mind, there is always an unsubsribe link provided for you!

Return to Home Page for more about Flax seed.