Constipation Relief with Flaxseed
Have you ever suffered from Constipation?
Flaxseed can help Relieve Constipation!
Are you looking for Constipation Relief?
Flaxseed for constipation is very helpful and effective!
Do you have bowel movements that are uncomfortable, painful, infrequent, small and/or hard?


Do you ever use stool softeners or laxatives for relieving constipation?


Do you have a bowel movement less often then 1x/day or every other day?


Do you suffer from Chronic Constipation?


Have you tried many ways to achieve constipation relief?
You have found a place where there is real hope!
---
Having constipation over a long time can lead to many health problems including:
Increased Cholesterol Levels
Hemorrhoids
Headaches
Indigestion
Varicose veins
Bad breath
Body odor
Indigestion
May cause increased risk for or be a result of Colon/ Colorectal/ Rectal cancer
Diverticulosis -Where the colon forms pouches in the intestinal wall that catch fecal material and hold it while it hardens causing Diverticulitis -which is the swelling and inflammation of the pouches.
---
There is HOPE for those who suffer from constipation!! Many people have found that when they add ground flax seed daily into their diet, they experience regular stools that are NOT hard or difficult to move. Many times people who have had to use stool softeners or enemas no longer need these and have achieved constipation relief from eating Cold Milled Flaxseed!
Here is one example:
Flax Results
Eleanor,
Here are the results I have had in only a few months. I am 52 years old and have several health problems. Type 2 diabetes and Menopause and constipation being my top three complaints. When I was introduced to Golden Flax, I was drinking fiber every day and still had to live on Senna. I no longer have to buy Senna or fiber....Thanks, Sherrie L
~Click here for more of this testimonial about constipation relief~
Millions of people, constipation is an affliction they battle daily. Constipation has immeasurable health risks as fecal matter sitting in the colon can prevent the body from being able to get rid of toxins and waste material our body does not want.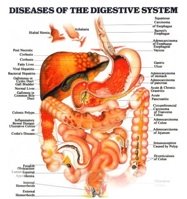 We certainly wouldn't keep decaying food in our house for a long time and in the same way, we want to be sure our bodies are able to cleanse the waste system effectively. For more about
how food is digested and passes through the colon,
Click on the photo.
---
Did you know that if a person does not have a bowel movement every day, that the body reabsorbs cholesterol -the very thing many of us are trying to decrease! Most people should have a bowel movement every day, but every other day is alright, as long as it is not a result of constipation!
When our daily routines change for any reason, or our diets change, or perhaps we are not getting as much exercise and activity as we used to, our digestive system can be drastically affected!
---
One of the oldest, simplest and way to get the most value for your money is to eat GOLDEN FLAXSEED every day for constipation relief.
---
2-3 tablespoons/day of flaxseed is the general recommendation and can help alleviate and prevent constipation.
It is important to drink ~8-16 oz water during/after eating flaxseed, otherwise the colon cannot move the waste material out because the body and colon will compete for the too little amount of water in the body.
Click here for more on HOW FLAX SEED WORKS to provide constipation relief. (coming soon!!)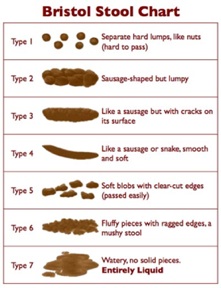 ---
The
Bristol Stool Chart
is a Medical Chart used to Classify and Describe Types of Bowel Movements -Type 1 + 2 are considered constipation.
Click Here or on the photo.
---
In addition to eating ground flax seed every day, we recommend eating fresh, raw vegetables and fruits and more whole grains instead of white flours, sugars, and fats.
A balanced diet is essential to help you achieve your healthy life goals!
Nothing can replace the importance of a balanced diet filled with vegetables, fruits and whole grains
~which includes flax!
---
Many babies and children also suffer from constipation, even when they are having regular bowel movements!
If your baby or child is having abdominal pain or small bowel movements, they may suffer from constipation. Even babies and children are not getting enough fiber in their diets, and
flaxseed is an excellent and easy way to alleviate and prevent constipation in children.
Do you know what symptoms to look for?
It is important to recognize symptoms in your baby or child, and these can be one or more of these:
firm stools,
straining and grunting,
streaks of blood on stool,
and abdominal discomfort.
---
At ~$6/month or 22 cents/day Cold Milled Flax seed is an incredible deal! It is difficult to find food so good for you that is so economical!
Flax seed is one of the oldest, simplest and best preventions for constipation relief, among other health benefits.
---