Refrigerate Flax
I have been keeping the flax in my refrigerator. Do I need to refrigerate flax? Do I need to freeze flax? I hear so many different things, and it is confusing.
Thank you, Sharon
*******Great question Sharon, and I get the same questions many times because
it can be confusing
! The reason there are so many different opinions out there is because of the changes made in
how we can now get flax
.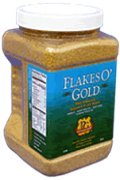 When we could only get
whole flax seed
or ground flax (that was not Cold Milled),
nutritionists told us that ground flax
seed would begin to lose all its'
great nutrients like Omega 3 oil
within minutes because of the exposure to heat in the grinding process (like a coffee grinder or blender). Ground or milled flax that is not cold milled will have
lost many of those nutrients
and will
taste bitter or rancid.
So, it was important for us to grind our own flax seed and eat it that day, or store in the fridge or freezer. For those who still prefer to grind their own flax, they get the economical benefit, since it is cheaper, but they still need to eat it that day or refrigerate it (there is a trade-off for the convenience and time)! With
cold milled flax, this changes
because the Farmer developed
a one-of-a-kind proprietary mill
that never exposes the flax seed to heat, so we now have
cold milled flax
that will not go lose its nutrients and go rancid.If you have
cold milled flax, you do not need to refrigerate flax
, just
keep it out of direct sun and heat
. You can keep it in the fridge if you have space; we don't have any extra room in ours, so we keep it in a easy-to-access cupboard or on the counter! Cold milled flax is
perfect for busy people
and those of us who would otherwise not take the time to grind flax! Cold milled flax is easy to
quickly add to your favorite food
as well as fast to pack up and take with you to work, school or while traveling!Here's to your health!
~Ellie
Ellie's Store | Home | FAQ
Flax | Lignans | Barley | Recipes | Testimonials
Contact Us |Privacy Policy